Esittely
THE RAISE3D PRO2 SERIES 3D PRINTERS
The Raise3D Pro2 3D printer takes the same amazing form of the Raise3D N2 and gives you even more! You get these same great features standard:
– Superb Build Volume
– Dual Extrusion
– Wireless Connectivity
– Fully Enclosed
– 7″ Full-Color Touchscreen
– Print Recovery
– V3 Hotend Capable of Temperatures up to 300° C
WITH THE PRO2, YOU ALSO GET THESE AMAZING NEW FEATURES:
– Magnetic Swappable Print Bed System
– Built-In Remote Monitoring Camera
– 32-Bit Motherboard Controller
– High-Quality Optical X, Y and Z Axis Endstops
– Improved Extruder Motors with Filament Runout Sensors
– Super High-Resolution 3D Printing – Down to 0.01mm Layer Thickness
MASSIVE, FULLY ENCLOSED BUILD AREA
The new Pro2 from Raise3D has a superb build volume – 12inx12inx11.8inches, making 3D printing in much larger scale than other similarly priced 3D printers no problem. Because it is fully-enclosed, temperatures remain much more stable, so printing with ABS and other temperature sensitive filaments is no problem. The enclosure also makes the Pro2 safer for beginners to work with, and it keeps curious fingers out of harm's way at schools.
The Pro2 includes a new cooling fan with a HEPA filter. Not only can the fan be controlled independently for more or less cooling, it traps over 90% of all contaminants, keeping dust and debris out of the air.
7″ FULL-COLOR TOUCHSCREEN
The Pro2 is equipped with a huge, 7″ capacitive touchscreen, allowing the user to calibrate, download, monitor and modify 3D prints without a computer. With 2 USB ports, WiFi and Local Area Network connectivity, options for inputting designs are limitless. The interface also shows progress on 3D print jobs, so workgroups gain more insight into projects and keeps design teams moving in the right direction.
EMERGENCY PRINT RECOVERY
If the power goes out, or the printer is accidentally unplugged during a print, it will save the previous location of the tool head during the print and allow the print to continue once power is restored. No more lost prints because of mother nature or butter fingers.
UNLIMITED MATERIAL CHOICES
The Pro2 hotend is capable of reaching a blistering 300°C, and the swappable heated print bed is capable of reaching temperatures of 110°C, so any and all filaments are supported!
-PLA -TPU -PETG
-ABS -NYLON -Metal infused PLA*
-HIPS -TPE -Wood PLA
-PC -FLEX -Carbon Fiber Reinforced*
*Required Hardened Nozzle
NEW AND IMPROVED MOTHERBOARD
The new ARM Cortex M7 32-bit controller allows for amazing accuracy while maintaining high-speeds for all 3D printing tasks. Made with industrial grade components, the Pro2 Plus delivers silky smooth movement and superior-quality 3D prints at any resolution.
NEW EXTRUDER WITH FILAMENT RUN-OUT SENSOR
The improved, dual-gear driven extruder lowers the possibility of slipping, giving better grip for all filament types, as well as more reliable extrusion overall. The extruder redesign makes it almost 50% faster. The dual extruder also includes receding nozzles – the nozzle that is not in use recedes until needed again. This also gives the Pro2 models even more speed to finish prints.
The filament run-out sensor gives 3D prints another chance at success by informing the user remotely that a project needs more filament. Once it is replaced, the print can resume without having to start all over again.
IMPROVED BUILD PLATE SYSTEM
The aerospace-grade print bed is removable and has an upgraded 4+9 point lock system to prevent slippage. With a silicone heated pad under the main removable plate, heat distribution is excellent, with less warping along and extreme ease-of-use. Replacement of the print bed is also extremely easy and can be supplemented with additional print beds for more technical applications of additional surfaces – borosilicate, garolite, and other materials.
BUILT-IN LIVE CAMERA
Now included with the Pro2 models is a built-in, high-resolution camera for remote monitoring. Get a look at your projects whether you are home or not!
Tekniset tiedot
TECHNICAL SPECIFICATIONS
Print Technology: FFF
Build Volume (WxDxH):12x12x11.8inch (305x305x300mm)
11x12x23.8inch (280x305x605 mm)*
Machine Size: (WxDxH): 24.4×23.2×29.9inch (620x590x760 mm)
Print Head: Dual-Head with electronic lifting system
Filament Diameter: 1.75mm
XYZ Step Size: 0.78125, 0.78125, 0.078125 micron
Print Head Travel Speed: 30-150 mm/s
Build Plate: Heated Aluminum Build Plate with Magnetic Holding
Max Build Plate Temperature: 110°C
Build Plate Material: Silicone
Build-Plate Leveling: Pre-Calibrated Leveling
Supported Materials: PLA, ABS, HIPS, TPU, PC, NYLON, TPE, FLEX, PETG, Metallic PLA, Wood PLA, Carbon Fiber Reinforced Materials
Nozzle Diameter: 0.2, 0.4, 0.6, 0.8, 1.00mm
Max Nozzle Temperature: 300°C
Operating Sound: 50 dB
Connectivity: WiFi, LAN, USB Port
Monitoring: Live Camera
Power Supply Input: Universal 100-240 VAC, 50/60 Hz
Power Supply Output: 600 Watts, 24 VDC
*When you are printing with dual material.
PRINTER CONTROLLER AND SOFTWARE
Slicing Software: ideaMaker
Supported File Types: STL, OBJ
Supported OS: Windows/iOS/Linux
Machine Code Type: gCode
User Interface: 7″ Touch Screen
Network: Ethernet 802.11b/g/n WiFI 2.4GHz/5GHz
Resume Print after Power Outage: Second Generation
Screen Resolution: 1024×600
Motion Controller: ARM Cortex M7.400MHZ FPU
Logic Controller: Freescale imx6, Quad Core 1GHz ARM Processor
Memory: 1 GB
Onboard Flash: 8 GB
OS: Embedded Linux
Ports: SD Cardx1, USB 2.0×2, Ethernetx1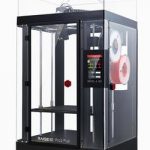 Raise3D Pro2 Plus